Description:
Despite its compact design and low weight, Chemical 2F is characterized by outstanding durability, chemical resistance and increased ingress protection. The thought-out design with smooth surface allows easy decontamination by shower or even full immersion. The unique aotomatic closing system prevents unwanted contamination while the filters are being changed. The smart Flow Control system maintains the airflow constant regardless filter clogging or low battery charge. Audiovisual alarm indicate when the battery charge and/or filter replacement is required. Airflow is individualy adjustable from 120 lpm up to 235 lpm.
Areas of application:
Potentially explosive atmospheres – approved to Zone 2, heavy industrial environments including chemical and pharmaceutical industry, remediation operations, laboratories, first responders and emergency teams, biological protection.
Features & Benefits:
Compact design and low weight
Specially adapted for use in potentially explosive atmospheres – approved to Zone 2
Compatible with a hood, mask or ventilated protective suit
High mechanical and chemical resistance
Increased ingress protection allows decontamination by shower or even full immersion (IP64/IP65/IP68)
Full colour display clearly shows all the relevant information – filter clogging, battery charge, airflow
Flow Control system maintains constant airflow regardless of the level of filter clogging or battery charge
Short battery recharging time < 3 hours
Audiovisual alarm
Multilingual user interface
Technical data:
Weight 960 g (including battery)
Dimension 240 mm / 110 mm / 120 mm
Airflow adjustable 120 -235 lpm
Alarm audio, visual
Operation* / charging time < 10 / < 3 h
Battery Li-Ion 14,4 V / 2,6 Ah (standard)
Hose connection CA40x1/7"
Certification EN 12941 TH3 EN 12942 TM3
ATEX classification Ingress protection IP64/IP65/IP68 II 3 G IIB T4 Gc II 3 D IIIC 135°C Dc
Includes:
Standard CleanAIR® Chemical 2F EX
Battery Standard Li-Ion 14,4 V / 2,6 Ah
Flow indicator
Battery charger
Comfort padded belt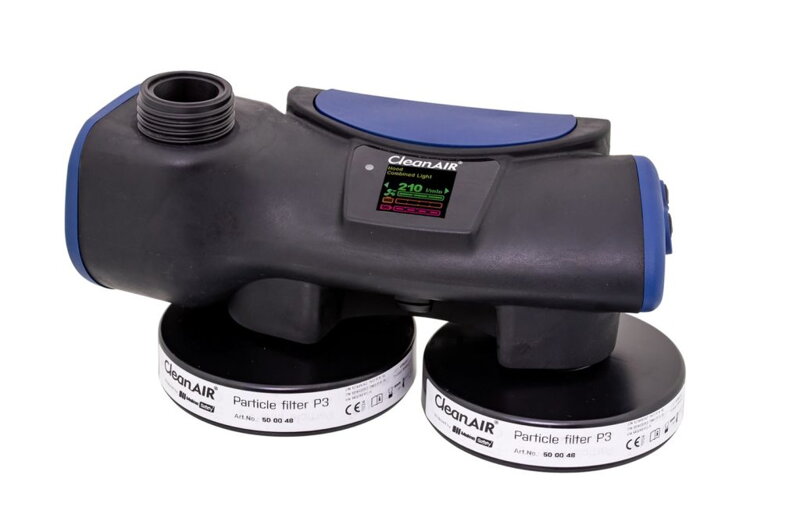 We deliver worldwide.
All products will be delivered by a local courier or DHL Express by air.
Here are shipping fees and delivery times for particular regions:
| | |
| --- | --- |
| EUROPE - local courier | 21,00 Eur incl.VAT (3-10 days) |
| EUROPE - DHL EXPRESS | 36,00 Eur incl. VAT (2-4 days) |
| OTHER WORLD - DHL EXPRESS | 48,00 Eur incl.VAT (2-5 days) |