Effective:
NEUTRIX is a handheld and portable grinding machine that fulfils the requirements for safe and environmentally
friendly grinding of Tungsten electrodes in high quality for TIG and plasma welding. Grinding in the longitudinal direction of the electrode, variable grinding angle, three grinding positions on the diamond disc and the electrode holder ensure efficient grinding.

Mobile and safe:
The storage case and low weight make NEUTRIX ideal where there is a need to take the grinder with you. At the same time, the NEUTRIX, is equipped with an integrated dust filter that protects against the harmful grinding dust and collects the dust for safe disposal.
Short electrodes:
NEUTRIX can grind electrodes down to lengths of 19 mm and even 15 mm with a special clamp, for example for orbital welding. The inspection cover on the grinder makes it easy to follow the grinding process and to ensure that the electrode is not generating sparks during grinding. This avoids the electrode being damaged by high temperatures.
Simple operation:
Insert the electrode in electrode holder and lock it in the stick-out. Set the variable degree scale at the desired angle. Place the electrode holder in the grinder. Start the grinder and rotate the holder until it reaches the stop and the grinding is finished.
Grinder facts:
Electrode size:  Ø0.8 - 4 mm
Min. length: 19 mm standard (15 mm with special electrode clamps)
Angles:15° - 180° tip angle (7.5° - 90° grinding angle)
Technical specifications:
Motor: 110V-50/60 Hz, 220V-50/60Hz
Motor effect: 850 W
Weight: 2.8 kg
Speed: 22,000 - 28,000 rpm.
Grinding speed: 28 - 50 m/sec.
Standard unit includes:
Complete grinder with diamond disc,
filter and storage case
Electrode holder
Electrode clamps for Ø1.6, 2.4 and 3.2mm electrodes (clamps are available for other electrode sizes).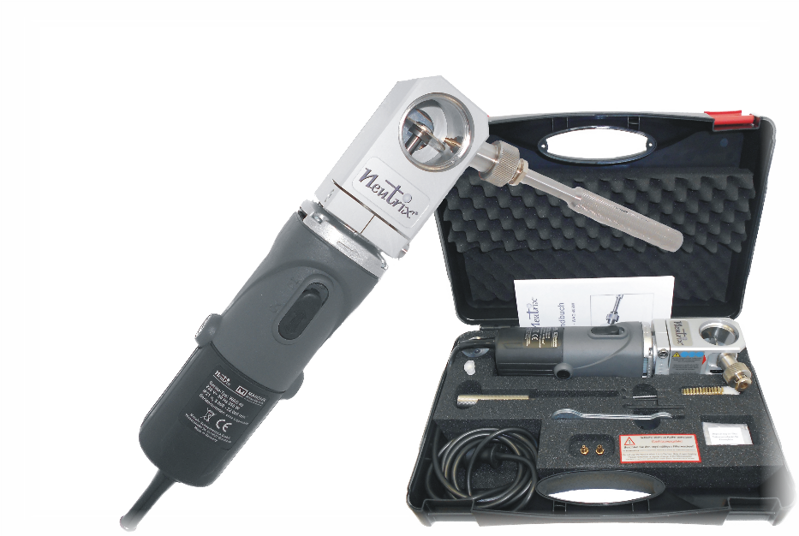 NEUTRIX WAG 40 - 230V/50Hz
We deliver worldwide.
All products will be delivered by a local courier or DHL Express by air.
Here are shipping fees and delivery times for particular regions:
| | |
| --- | --- |
| EUROPE - local courier | 21,00 Eur incl.VAT (3-10 days) |
| EUROPE - DHL EXPRESS | 36,00 Eur incl. VAT (2-4 days) |
| OTHER WORLD - DHL EXPRESS | 48,00 Eur incl.VAT (2-5 days) |