Description:
aperture DIN2.5 in bright condition represents up to 4x brighter image compared to standard DIN4.0 on the market
real colors on the entire color spectrum, true presentation, red, yellow, blue, green colors
field of view size: 95 x 62 mm
4 optical sensors
permanent protection against UV/IR radiation (ultraviolet and infrared light spectrum) aperture 16 according to DIN – the highest in its class on the market
aperture with brightened filter 2.5 according to DIN
continuously variable aperture when darkened filters (when welding) 5-8, 8-12 according to DIN controlled externally by potentiometer
reliable arc detection from 2 [A] (also in pulse)
the filter is powered by a solar cell + a replaceable CR2450 lithium battery, this solution ensures a long service life
the self-dimming filter is equipped with a low battery LED indicator
delay setting, you can then set how long after the arc is extinguished the filter brightens again (up to f/2.5) to compensate for the residual brightness that the weld/weld can produce
this time can be smoothly regulated in the range of 0.1~1s with an internal potentiometer
dimming speed after starting the arc 0.04 ms
off/on - automatic
function: grinding (external controller)
suitable for: Excellent for low TIG ≥2 [A]/DC; ≥2 [A]/AC, MIG/MAG; MIG/MAG Pulse; Plasma cutting/welding; MMA, TIG, etc. see manual
front cover film with seal - this is very important - along the unsealed cover film, fumes and dirt can enter the hood to the filter
arched front cover film – ensures better reflection of splashes, radiation and also an air gap between the cover film and the self-darkening filter for better air circulation in front of the filter
operating temperature from -10°C ~ +55°C – the best values in its class on the market
weight 580g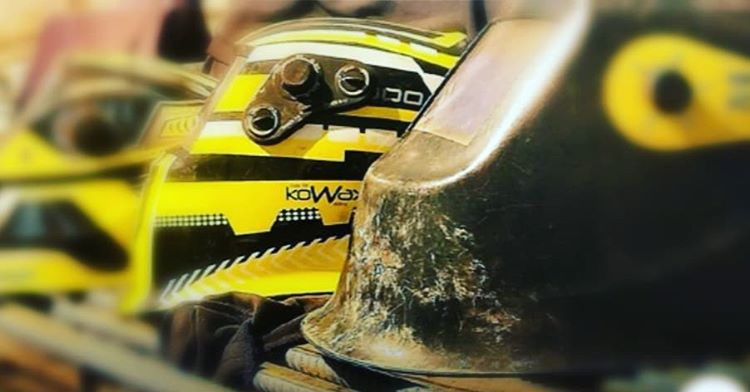 Technical data:
Optical class according to EN379 1/1/1/2
Filter dimensions 110 x 90 x 9 mm
Field of view 95 x 62 mm
Number of sensors 4
Protection against UV / IR radiation DIN 16
DIN brightened 2.5
DIN darkened 5-8 / 9-13 adjustable externally
Power source solar cell + 1 x CR2450 lit.bat.
Turn on / off full automatic
Low battery indicator YES
Battery Capacity Test YES
Grinding function / modes (external switch), TIG from ≥2
Sensitivity adjustable externally
Dimming rate 0.04 ms
Dark-to-light transition 0.1 - 1 s (with external control)
Operating temperature -10 °C to + 55 °C
material Nylon
Certified: CE, DINplus, ANSI Z87.1, CSA Z94.3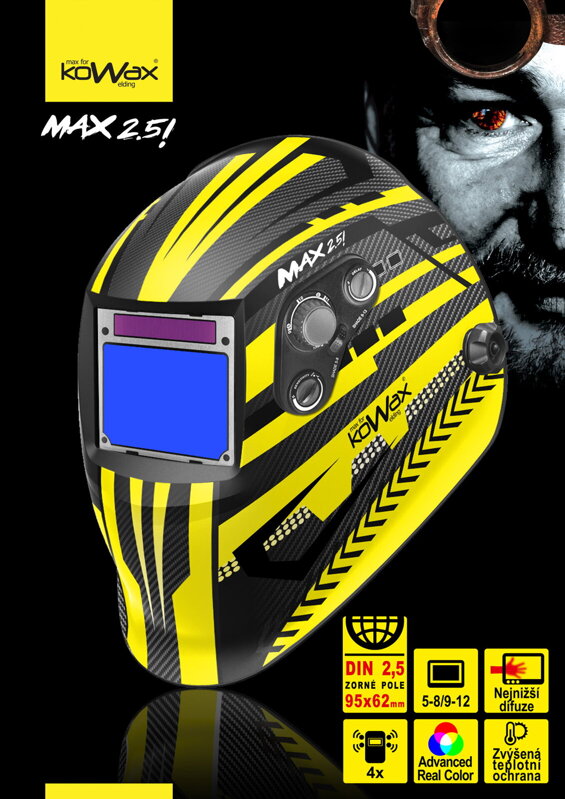 We deliver worldwide.
All products will be delivered by a local courier or DHL Express by air.
Here are shipping fees and delivery times for particular regions:
| | |
| --- | --- |
| EUROPE - local courier | 21,00 Eur incl.VAT (3-10 days) |
| EUROPE - DHL EXPRESS | 36,00 Eur incl. VAT (2-4 days) |
| OTHER WORLD - DHL EXPRESS | 48,00 Eur incl.VAT (2-5 days) |