Description:
NEW - increased protection against thermal radiation
NEW - external grinding mode controller (switch mounted on the outside of the helmet shell)
Exclusive ARC ++ function (Advanced Real Color) - Real colors across the entire color spectrum - red, yellow, blue, green
The highest optical quality of the filter 1/1/1/1 EN379
KOWAX® surpasses global competition defines a new level of optical comfort for welders thanks to a level of better results in light diffusion through a darkened filter (second number in the EN379 specification), this value is essential for optical welding comfort. Your eyes must be less focused, resulting in less tired eyes, less headaches, etc.
Field of view: 95 x 85 mm
4 optical sensors
Permanent protection against UV / IR radiation (ultraviolet infrared light spectrum) aperture 16 according to DIN - The highest in its class on the market
Aperture with 3.5 DIN brightening filter - the best value in its class on the market
Continuously variable orifice plate when filter darkens (when welding) 5-8, 8-13 according to DIN, controlled by external potentiometer
Reliable arc detection from 2 [A] (even at pulse)
The filter is powered from the solar cell + to the replaceable lithium battery CR2450, this solution ensures a long life
The self-dimming filter is equipped with a low battery LED indicator
Setting the delay, you can set how long after the arc goes out, the filter will brighten again (to the aperture 3.5) to compensate for the residual brightness that the weld can produce. This time can be continuously controlled in the range of 0.1 ~ 1 with an internal potentiometer
Darkening speed after arc start 0.04 ms
Power On / Off - Automatic
Function: grinding (external controller)
Suitable for: excellent for low TIG ≥2 [A] / DC; ≥2 [A] / AC, MIG / MAG; MIG / MAG pulse; plasma cut. / zvar .; MMA, TIG, etc.
Front cover foil with seal
Domed front cover - Provides better reflection of spatter, radiation as well as air gap between cover and self-dimming filter for better air circulation in front of the filter
Operating temperature from -10 °C to + 55 °C
Weight 580 g

Technical data:
Optical class according to EN379 1/1/1/1
Filter dimensions 133 x 114 x 9 mm
Field of view 95 x 85 mm
Number of sensors 4
Protection against UV / IR radiation DIN 16
DIN brightened 3.5
DIN darkened 5-8 / 9-13 adjustable externally
Power source solar cell + 1 x CR2450 lit.bat.
Turn on / off full automatic
Low battery indicator YES
Battery Capacity Test YES
Grinding function / modes (external switch), TIG from ≥2
Sensitivity adjustable externally
Dimming rate 0.04 ms
Dark-to-light transition 0.1 - 1 s (with external control)
Operating temperature -10 °C to + 55 °C
material Nylon
Weight 580 g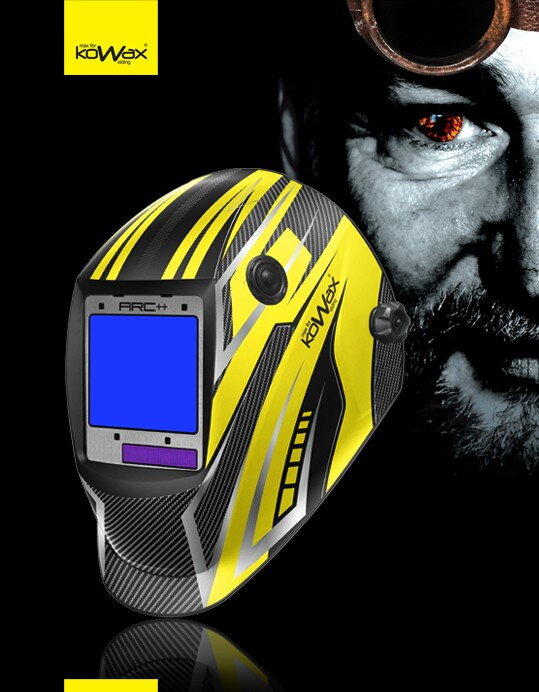 Kowax KWX820ARC++ welding helmet
We deliver worldwide.
All products will be delivered by a local courier or DHL Express by air.
Here are shipping fees and delivery times for particular regions:
| | |
| --- | --- |
| EUROPE - local courier | 21,00 Eur incl.VAT (3-10 days) |
| EUROPE - DHL EXPRESS | 36,00 Eur incl. VAT (2-4 days) |
| OTHER WORLD - DHL EXPRESS | 48,00 Eur incl.VAT (2-5 days) |