Description
This long light hood ensures respiratory protection and protection of the head, neck and shoulders in dusty environments where no further mechanical protection is required. In combination with PAPR or airline systems CleanAIR® it reaches the highest level of breathing protection. It perfectly fits to various head types due to adjustable headgear and comfortable elastic rubber band. The distance of the visor can be individually set, as well as the perimeter of the headgear. The light nylon fabric and spacy cut makes it pleasant to wear even for long time work. The wide panoramic visor with antifog coating ensures undisturbed view and provides basic mechanical protection of the eyes.
Areas of application
The hood can be used in dusty or light chemical environments. It is suitable for spraying and painting operations as well as for use in laboratories and pharmaceutical industry.
Features & Benefits
Superior respiratory protection
Wide visor with antifog coating
Individual headgear settings – adjustable perimeter and distance from the visor
Pleasant to wear due to the spacy cut and light weight durable material
Basic mechanical protection of the eyes
Practical reflective tab on the top
Protection of the upper part of the body
Technical data
Weight 240 g
Material hood – nylon visor – cellulose propionate
Colour orange, blue
Protection factor (NPF) 500
Hose connection QuickLOCK™
Certification EN 12941 TH3 EN 14594 3A EN 166 1 S F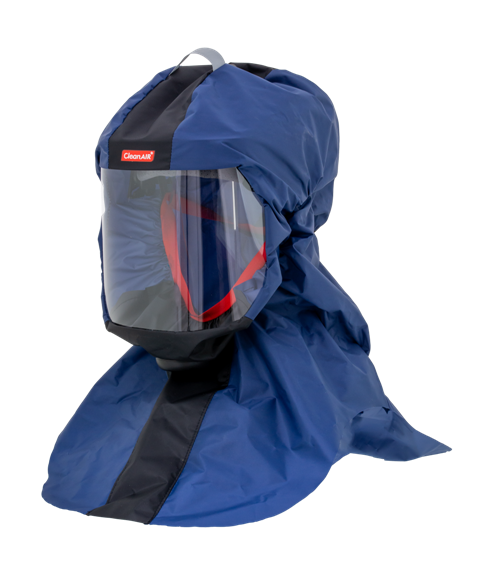 We deliver worldwide.
All products will be delivered by a local courier or DHL Express by air.
Here are shipping fees and delivery times for particular regions:
| | |
| --- | --- |
| EUROPE - local courier | 21,00 Eur incl.VAT (3-10 days) |
| EUROPE - DHL EXPRESS | 36,00 Eur incl. VAT (2-4 days) |
| OTHER WORLD - DHL EXPRESS | 48,00 Eur incl.VAT (2-5 days) |