Description
This innovative welding helmet brings a solution for integrated air distribution allowing the possibility to adjust the airflow direction and at the same time ensures the maximum level of welder´s protection, making it the best choice for use in the heaviest industrial environments. The CA-20 welding helmets are equipped with auto-darkening filters (Balder Grand) which use the revolutionary technology of Angular Dependence Compensation ADC Plus.
Areas of application
Professional welding helmet suitable for all welding methods including TIG, even with very low welding current.
Features & Benefits
Attractive design
Low weight
Integrated air distribution system
Adjustable airflow direction
Easily and quickly exchangeable face seal
Enlarged viewing area 97×68 mm
ADC plus technology provides the best optical quality 1/1/1/1 and improved colour recognition thanks to a revolutionary UV/IR filter, certified for grinding operations as well
Technical data
Weight 535 g
Protection factor (NPF) 500*
Certification EN 175, EN 12941* TH3, EN 14594 3B*
* certification valid only for version CA-20 (with integrated breating protection)
Auto-darkening filters; technical data
Certification EN 379
Optical classes 1 / 1 / 1 / 1
Viewing area 97 x 68 mm
Filter opening 110 × 110 mm
Weight 125 g
Open state shade  4
Closed state shade 9–13
Shade adjustment internal
Sensitivity adjustment internal
Delay adjustment internal
Grinding mode no
Switching time at +23 °C 0,15 ms
Clearing time 0,2 – 0,8 s
UV/IR protection UV 16/IR 16
Temperature range −10 °C / +60 °C
TIG detection enhanced
Energy supply solar cells – no battery change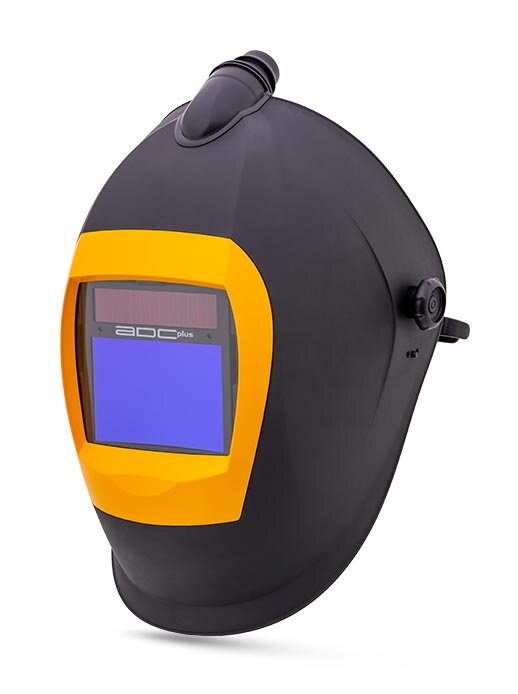 We deliver worldwide.
All products will be delivered by a local courier or DHL Express by air.
Here are shipping fees and delivery times for particular regions:
| | |
| --- | --- |
| EUROPE - local courier | 21,00 Eur incl.VAT (3-10 days) |
| EUROPE - DHL EXPRESS | 36,00 Eur incl. VAT (2-4 days) |
| OTHER WORLD - DHL EXPRESS | 48,00 Eur incl.VAT (2-5 days) |