Description
The most innovative and ergonomical helmet to date, expanding the welder´s fi eld of vision without compromising on comfort. The unique nose cut-out fl oats above the nose to position the ADF closer to the eyes. This enlarges the fi eld of vison 6 times compared to the conventional welding helmets. Fully automated shade level adjustment for any welding
procedure in the 5-12 range. In-bulit air distribution system delivers the air right into the breathing zone.
Areas of application
Any electric arc welding process Electrode Welding (Stick Welding, SMAW) / MIG / MAG (GMAW) / GMAW High melting rate process / Flux Cored Wire Welding / TIG welding (GTAW) / Plasma Arc Welding / Plasmacutting & Oxy-gas Welding / Grinding in Grind Mode. Prohibited for laser welding.
Features & Benefits
6-times larger fi eld-of-view compared to standard helmets
AUTOPILOT – fully automatic shade level adjustment within the range 5-12. If preferred, the Autopilot can be deactivated for manual shade level selection 7-12.
True colour view
Shade level 2.5 in inactive mode
New energy concept with Lithium-polymere battery
Multi-Sensor detection – 5 sensors
Grind mode function
In-built air distribution system
The highest standard in respiratory protection – TH3
Technical data
Weight 740 g
ADF dimension unique specifi c cut-out shape
Viewing area 6 time wider compared to conventional ADF
Hose connection QuickLOCK™
Certification EN 379 1/1/1/2, EN 175 B, EN 12941 TH3, EN 14594 3B
Protection factor (NPF) 500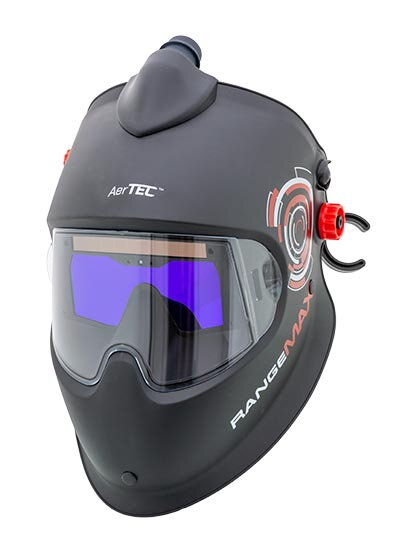 We deliver worldwide.
All products will be delivered by a local courier or DHL Express by air.
Here are shipping fees and delivery times for particular regions:
| | |
| --- | --- |
| EUROPE - local courier | 21,00 Eur incl.VAT (3-10 days) |
| EUROPE - DHL EXPRESS | 36,00 Eur incl. VAT (2-4 days) |
| OTHER WORLD - DHL EXPRESS | 48,00 Eur incl.VAT (2-5 days) |