Description
You can choose from 4 filters (all with air distribution):
 passive filter No. 10
 ADF V9-13 DS ADC
 ADF AerTEC X100 V913
 ADF AerTEC X110 V913 True Color
Thanks to stable flip-up welding visor provides excelent protection for welding and subsequent surface finishing operations.
The flip-up front can be lifted up onto the top of the helmet, whenever the wide undisturbed view is needed. The unique flip-up mechanism optimises the center of gravity and reduces the required space. The flip-up welding shield allows to use either autodarkening filter or passive welding filter with standard dimension 110×90 mm and thus provides protection of face and eyes against harmful ultraviolet/ infrared radiation and welding spatters. A wide curved protective visor ensures undisturbed view in all directions and meets medium impact requirements "B" as defined in EN 166. CA-29 Evolve is designed for use with CleanAIR® PAPR units or CleanAIR® airline systems to protect respiratory tract from various kinds of harmfull airborne contaminants.
Areas of application
Suitable for most of welding methods and subsequent cleaning and grinding operations.
Features & Benefits
Combines welding and grinding protection
Compact and durable design
Low weight, well balanced, comfortable
Large curved visor 170×95 mm
Compatible with autodarkening or passive filters 110×90 mm
Comfortable and easily adjustable headband
Easily exchangeable spare parts
Compatible with CleanAIR® PAPRs and airline systems
Technical data
Weight 580 g (helmet w/o air distribution, w/o ADF)
Material helmet shell – TPE visor – Polycarbonate
Hose connection CA40×1/7"
Protection factor (NPF) 50
Certification EN 12941 TH2, EN 14594 2A, EN 175 B, EN 166 B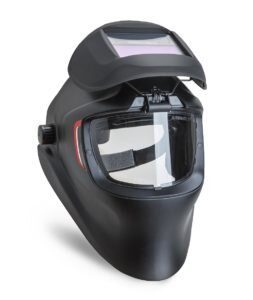 We deliver worldwide.
All products will be delivered by a local courier or DHL Express by air.
Here are shipping fees and delivery times for particular regions:
| | |
| --- | --- |
| EUROPE - local courier | 21,00 Eur incl.VAT (3-10 days) |
| EUROPE - DHL EXPRESS | 36,00 Eur incl. VAT (2-4 days) |
| OTHER WORLD - DHL EXPRESS | 48,00 Eur incl.VAT (2-5 days) |