Description:
The unit is provided with a control system of constant air flow and with an advanced electronic system for warning the wearer in case of a sudden decrease of airflow or of a low battery charge. The ergonomic design, low weight and slim profile of the unit guarantee a high level of user comfort, even in environments with limited possibilities of movement. The unit is compatible with a wide range of CleanAIR® headtops for various industrial applications.
Areas of application:
Dusty industrial environments, including areas with contaminants in the form of gases and vapours, automotive industry, shipbuilding industry, welding, grinding and surface finishing operations, building industry.
Features & Benefits:
Ergonomic design and low weight – only 980 g
Slim profile of the unit – only 65 mm
Universal usage – filtration of particulate contaminants, gases and vapours
Operation time is up to 10 hours with the standard battery
Short battery recharging time less than 3 hours (standard battery)
Adjustable airflow (160 lpm and 210 lpm)
Constant airflow control regardless to the state of the filter and the battery capacity
Audiovisual and vibrating alarm indicating a low airflow and a low battery charge
Simple control with only one button
Ergonomic and comfortable belt which is easy to exchange
Unique solution of the filter sealing which provides a perfect unit seal after every change of the filter
Technical data:
Air flow 160 lpm and 210 lpm
Operation time* up to 10 hours with Standard battery 
Weight 980 g (incl. standard battery)
Noisiness max. 70 dB
Dimensions 235 mm / 126 mm / 65 mm
Battery Standard Li-Ion 14,4 V / 2,6 Ah
Certification EN 12941 TH3
Included:
 CleanAIR AerGO unit
 Flow indicator
 Battery charger
 Belt - you can choose standard belt or leather belt
 Battery standard
 1 pair of particle filter P R SL CleaAIR AerGO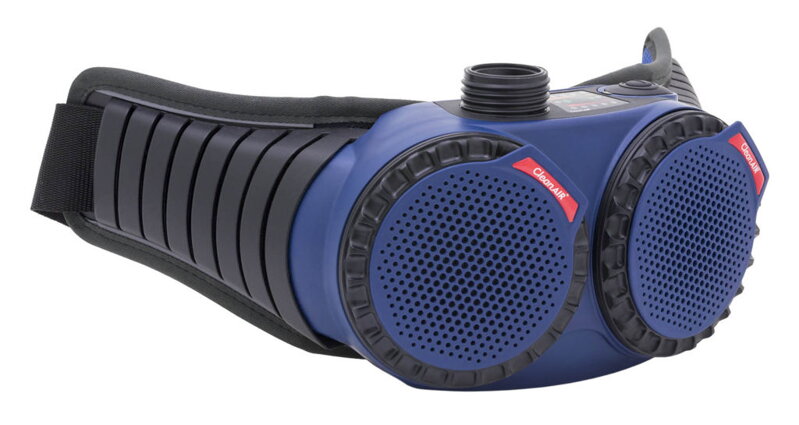 We deliver worldwide.
All products will be delivered by a local courier or DHL Express by air.
Here are shipping fees and delivery times for particular regions:
| | |
| --- | --- |
| EUROPE - local courier | 21,00 Eur incl.VAT (3-10 days) |
| EUROPE - DHL EXPRESS | 36,00 Eur incl. VAT (2-4 days) |
| OTHER WORLD - DHL EXPRESS | 48,00 Eur incl.VAT (2-5 days) |