Description CA-27 YOGA:
The AerTEC® YOGA represents a high-quality welding helmet for the price you can afford. The new YOGA concept uses a lightweight though durable welding shield in combination with high-quality auto-darkening filter AerTEC® X100. This solution is suitable for most of the welding methods including TIG, even with very low welding currents.
Areas of application CA-27 YOGA:
Suitable for most of welding methods.
Features & Benefits CA-27 YOGA:
Advantageous price/performance ratio
Lightweight and comfortable
Enlarged viewing area 100×53 mm
Continuously adjustable shade 9–13
The wide range of adjustable sensor sensitivity
Individual delay settings
Grinding mode
Compatible with wide range of CleanAIR® respirators
Technical data CA-27 YOGA:
Optical quality 1/1/1/2
Filter dimension 110×90 mm
Viewing area 100×53 mm
Arc sensors 4
Shade state DIN4/9–13
Shade control internal
Grinding mode YES, DIN4
Sensitivity control YES
TIG detection Enhanced
Energy supply solar cell + CR2032 battery
Certification EN379 (ADF), EN175 B (hood)
Description CA BASIC:
CleanAir Basic EVO is an Electric-motor-driven, battery-powered fresh air unit. It is approved for use with Evermatic PAPR helmets and lightweight CA facepieces.
The unit is eqquiped with a type P3 filter that effectively removes air-borne impurities and delivers filtered air into welder´s headpiece. The P3 filter is effective against solids and liquids, including dust, mist, welding fumes, microoragnisms and radioactive particles.
A blower provides a flow of air that helps to keep the welder cool, even in hot conditions, and prevents the welding filter from misting. The blower is worn on the waist using a padded belt, large in width for great support and added comfort. A fresh air unit guarantees a high level of protection, even in demanding environments.
Technical data CA BASIC:
Air flow – adjustable 170–240 lpm
Operation time Up to 10 hours
Charging time 4–5 hours
Weight 880 g (including battery)
Noisiness max. 70 dB
Dimensions 191 mm / 173 mm / 104 mm
Battery Li-Ion 7,2 V / 4,4 Ah
Certification EN 12941 TH3
Includes:
CA Basic EVO
battery
Flow indicator
support standard belt
charger with connector for EUR, UK, US, AUS
Filter P R SL
Light fl exi hose (QuickLOCK™ - CA40x1/7")
Welding helmet CA-27 YOGA ADF 9-13, incl. air distribution
CleanAIR® duffel bag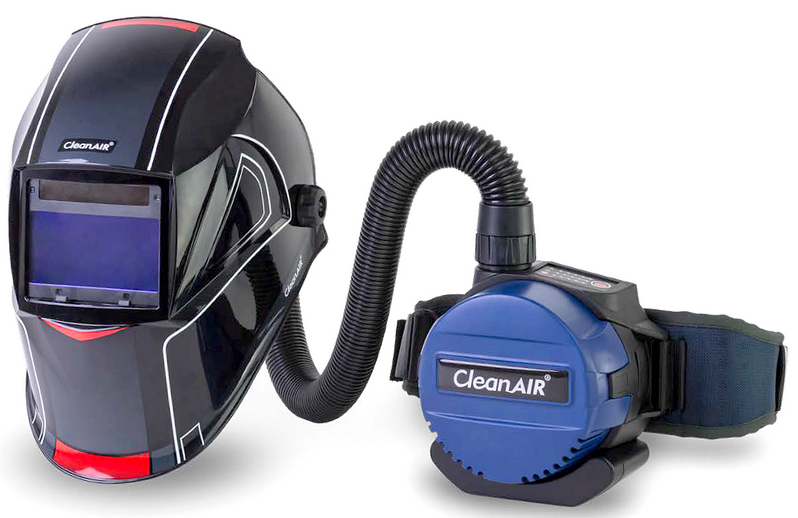 Welding set CA-27 YOGA ADF 9-13 + CA Basic
We deliver worldwide.
All products will be delivered by a local courier or DHL Express by air.
Here are shipping fees and delivery times for particular regions:
| | |
| --- | --- |
| EUROPE - local courier | 21,00 Eur incl.VAT (3-10 days) |
| EUROPE - DHL EXPRESS | 36,00 Eur incl. VAT (2-4 days) |
| OTHER WORLD - DHL EXPRESS | 48,00 Eur incl.VAT (2-5 days) |