Description UniMask:
The highest level of breathing protection with enhanced inner airfl ow regulation and a visor with excellent optical and mechanical features make this universal light face shield a true leader of its class. UniMask is light (just 380 g) and offers excellent user´s comfort – the inner airfl ow regulation allows the user to set direction and intensity of the air to be delivered to the face or directly into the breathing zone. The users can opt for a soft textile or a neoprene face seal according to their preferences. The visor provides clear and undisturbed view of the highest quality (class 1 according to EN 166), high mechanical resistance and the anti-fog coating. UniMask is easy to use and all spare parts are quickly and easily removable which enables fast and simple maintenance.
Areas of application UniMask:
Many kinds of grinding and other surface finishing operation, sheavy duty maintenance,building industry, automotive industry, shipbuildings,pray painting or surface finishing operations in the environments with low demands on chemical resistance, typically in chemical and pharmaceutical industry and laboratories.
Features & Benefits UniMask:
The highest class of breathing protection TH3
Enhanced inner airfl ow regulation
Light weight – only 380 g
Excellent optical quality EN 166 class 1
High mechanical resistance of the visor
Antifog / antiscratch coating
Safety helmet compatible
Neoprene or textile face seal option
Easy to use and adjust
Fast and simple maintenance
Technical data UniMask:
Weight 380 g
Material shield body – Polyamide faceseal Neoprene or 3D polyamide knit visor Polycarbonate
Protection factor (NPF) 500
Hose connection QuickLOCK™
Certification EN 12941 TH3 EN 14594 3B EN 166 1BT
Description CA AerGO:
The unit is provided with a control system of constant air flow and with an advanced electronic system for warning the wearer in case of a sudden decrease of airflow or of a low battery charge. The ergonomic design, low weight and slim profile of the unit guarantee a high level of user comfort, even in environments with limited possibilities of movement. The unit is compatible with a wide range of CleanAIR® headtops for various industrial applications.
Areas of application CA AerGO:
Dusty industrial environments, including areas with contaminants in the form of gases and vapours, automotive industry, shipbuilding industry, welding, grinding and surface finishing operations, building industry.
Features & Benefits CA AerGO:
Ergonomic design and low weight – only 980 g
Slim profile of the unit – only 65 mm
Universal usage – filtration of particulate contaminants, gases and vapours
Operation time is up to 10 hours with the standard battery
Short battery recharging time less than 3 hours (standard battery)
Adjustable airflow (160 lpm and 210 lpm)
Constant airflow control regardless to the state of the filter and the battery capacity
Audiovisual and vibrating alarm indicating a low airflow and a low battery charge
Simple control with only one button
Ergonomic and comfortable belt which is easy to exchange
Unique solution of the filter sealing which provides a perfect unit seal after every change of the filter
Technical data CA AerGO:
Air flow 160 lpm and 210 lpm
Operation time* up to 10 hours with Standard battery
Weight 980 g (incl. standard battery)
Noisiness max. 70 dB
Dimensions 235 mm / 126 mm / 65 mm
Battery Standard Li-Ion 14,4 V / 2,6 Ah
Certification EN 12941 TH3
Included:
CleanAIR AerGO unit
Flow indicator
Battery charger
Standard belt
Battery standard
1 pair of particle filter P R SL CleaAIR AerGO
Light flexi hose (QuickLOCK™ - CA40x1/7")
Protective face shield UniMask, blue
CleanAIR® plastic case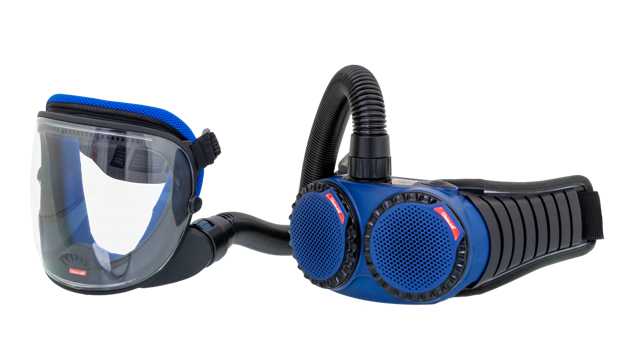 We deliver worldwide.
All products will be delivered by a local courier or DHL Express by air.
Here are shipping fees and delivery times for particular regions:
| | |
| --- | --- |
| EUROPE - local courier | 21,00 Eur incl.VAT (3-10 days) |
| EUROPE - DHL EXPRESS | 36,00 Eur incl. VAT (2-4 days) |
| OTHER WORLD - DHL EXPRESS | 48,00 Eur incl.VAT (2-5 days) |