TECHNICAL DATASHEET CleanAIR MedicAER
Description:
The battery-powered air purifying respirator (PAPR), the breathing protective device for increasing comfort and
safety when combined with approved headtops.
The construction allows easy decontamination in a shower or even an immersion disinfection. The unique automatic closing system reduces the risk of unwanted contamination of the unit while the filters are being changed. Full colour display clearly shows all the relevant information needed.
High-capacity Li-Ion battery as an option significantly extending operation time up to 16 hours. No more necessary to change or re-charge battery during long shifts including combination with gas and vapour filters.
Application:
In default MedicAER® provides protection against particulates, but is also capable to provide protection against wide range of contaminants when used with combined filters.
healthcare
emergency response
laboratories
pharmaceutical industry
Features & Benefits:
Compact design, low weight
Decontaminable by a shower
Allows immersion disinfection with Sodium hypochloride or Persteril
Unique automatic closing system
High mechanical durability and chemical resistance
Individually adjustable airflow 120-235 lpm
Full colour TFT display

The combination of protective hood CA-10 and corresponding filters (A2B2E2K2P3) ensures protection against biological contamination.
• The system can be easily decontamined by shower – IP64/IP65
• The system can be decontamined by the full immersion to the solution of NaClO (10g/l) or Persteril (2% Persteril 36) if decontamination plugs are used – IP68
• Operation time up to 6 hours with combined filters and up to 10 hours with P3 filters.
• System of electronic control of constant airflow regardless filter clogging or low battery.
• Low battery and airflow decrease alarm.
• The complete system including protective hood provides NPF 500 (TH3) according to EN12941.
What's in the box (included):
Powered air respiratory system CA MedicAER
1x Li-Ion battery
Charger (EUR plug)
Decontaminable harness with a belt
Light flexi hose QuickLOCK™
2x P3 filter
Flow indicator
Protective hood CA-10 with taped seams
Decontamination set for the full immersion
All packed in a plastic case CleanAIR®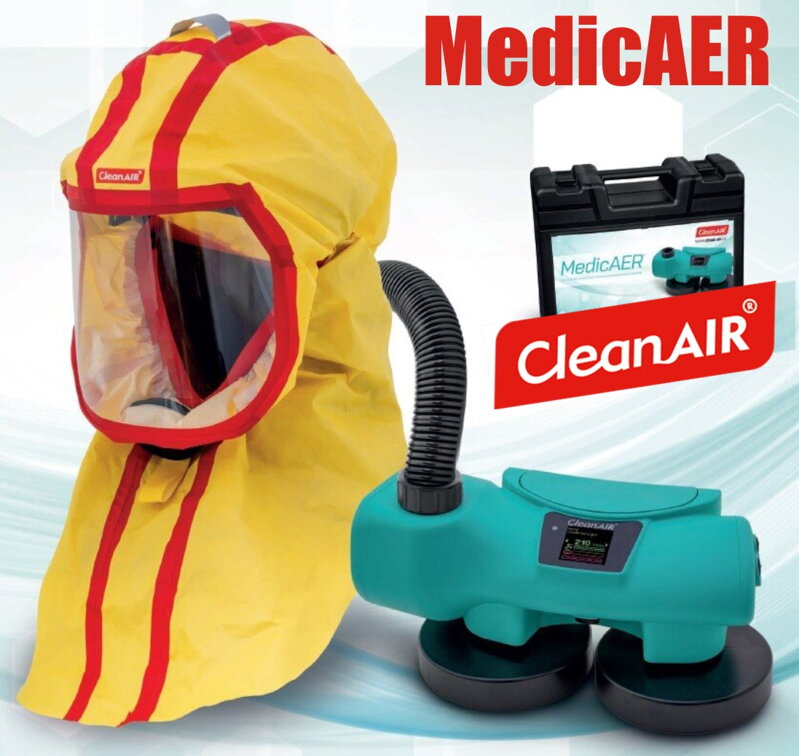 Ready 2 Work Set CleanAIR MedicAER
We deliver worldwide.
All products will be delivered by a local courier or DHL Express by air.
Here are shipping fees and delivery times for particular regions:
| | |
| --- | --- |
| EUROPE - local courier | 21,00 Eur incl.VAT (3-10 days) |
| EUROPE - DHL EXPRESS | 36,00 Eur incl. VAT (2-4 days) |
| OTHER WORLD - DHL EXPRESS | 48,00 Eur incl.VAT (2-5 days) |