Technical description CleanAIR AerGO:
the unit is equipped with constant air flow control and an advanced electronic system for warning the user in the event of a sudden drop in flow or a low state of battery charge
ergonomic shape, low weight and low profile of the unit guarantee high comfort of use even in areas with limited mobility
compatible with a wide range of CleanAIR® head parts for various industrial applications
Area of application of CleanAIR AerGO:
Dusty industrial environments, including applications with pollutants in the form of gases and vapors
Automotive industry, shipbuilding
Welding, grinding, surface treatment
Construction, agriculture
Features & Benefits:
Ergonomic design and low weight – only 980 g
Slim profile of the unit – only 65 mm
Universal usage – filtration of particulate contaminants, gases and vapours
Operation time is up to 10 hours with the standard battery
Short battery recharging time less than 3 hours (standard battery)
Adjustable airflow (160 lpm and 210 lpm)
Constant airflow control regardless to the state of the filter and the battery capacity
Audiovisual and vibrating alarm indicating a low airflow and a low battery charge
Simple control with only one button
Ergonomic and comfortable belt which is easy to exchange
Unique solution of the filter sealing which provides a perfect unit seal after every change of the filter
Technical data:
Air flow 160 lpm and 210 lpm
Operation time* up to 10 hours with Standard battery
Weight 980 g (incl. standard battery)
Noisiness max. 70 dB
Dimensions 235 mm / 126 mm / 65 mm
Battery Standard Li-Ion 14,4 V / 2,6 Ah
Certification EN 12941 TH3
Technical description BALDER CA-20 GDS 6-8 / 9-13:
The CA-20 protective helmet is intended for use with filter-ventilation units or a compressed air system. The innovative solution of the integrated air distribution inside the hood and the possibility of individual adjustment of the direction of air flow guarantees a high level and degree of protection of the welder's breathing.
The hood with an attractive design and low weight is balanced and comfortable. Impact resistant, also suitable for grinding. The enlarged field of view is 97 x 68 mm. Protective foils and welding cartridges are easy to replace. Top optical quality 1/1/1/1. ADC plus technology is currently the only cartridge with a rating of 1 to compensate for angular dependence according to EN 379. The hood has an integrated breathing distribution with the possibility of adjusting the air flow.
Technical parameters of BALDER CA-20 GDS 6-8 / 9-13:
EN379 certification
Optical class: 1/1/1/1
Field of view: 97 x 68 mm
Dimensions: 110 x 100 mm
Weight: 165 g
Light condition: 4 Dark condition: 6 - 8/9 - 13
Darkness adjustment: external
Sensitivity setting: yes
Setting the lighting delay: yes - external
Grinding mode: yes - external
Darkening rate at 23 ° C: 0.15 ms
Lighting speed: 0.2 - 0.8 s
UV / IR protection: UV 16 / IR 16
Power supply: solar cells, no need to change batteries
Included:
CleanAIR AerGO filter ventilation unit
2x filter P R SL
Li-Ion battery 14.4V / 2.6Ah
Belt
Flow indicator
Automatic charger
Lightweight flexible hose QuickLOCK - CA40x1 / 7 "
Self-darkening helmet Balder CA-20 GDS V6-8 / 9-13 with adjustment for breathing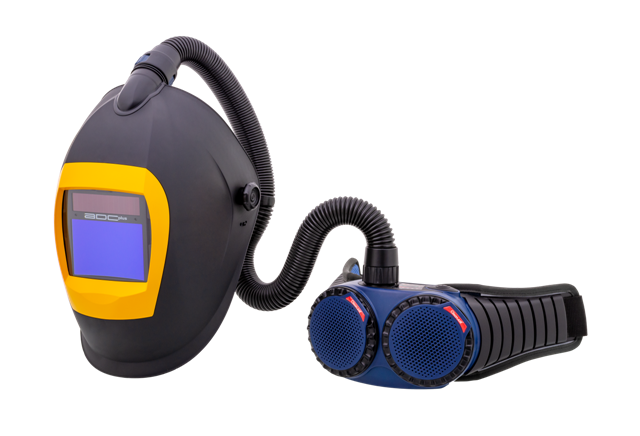 CleanAIR AerGO + welding helmet Balder CA-20 GDS
We deliver worldwide.
All products will be delivered by a local courier or DHL Express by air.
Here are shipping fees and delivery times for particular regions:
| | |
| --- | --- |
| EUROPE - local courier | 21,00 Eur incl.VAT (3-10 days) |
| EUROPE - DHL EXPRESS | 36,00 Eur incl. VAT (2-4 days) |
| OTHER WORLD - DHL EXPRESS | 48,00 Eur incl.VAT (2-5 days) |