optrel crystal 2.0 product brochure
True color means not the same as true color
As far as always the distinction can be seen upon taking a closer look. With the crystal lens technology you will recognize the difference immediately when putting it on.
The color perception in light state is almost like looking through clear window glass and in dark mode you enjoy a detailled and high-contrast view of the welding pool with a never-seen-before clearness.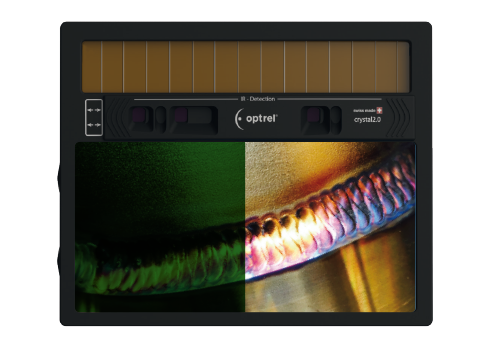 Fields of Application:
Elektrode Welding (Stick Welding, SMAW)
MIG/MAG (GMAW)
GMAW High melting rate process
Flux Cored Wire Welding
TIG Welding (GTAW)
Plasma Arc Welding
Micro Plasma Arc Welding
Plasma Cutting
Gas Welding
Grind Mode

Technical Data:
Shade levels - inactive: shade level 2.0, active, manual: shade level 4-12
Autopilot -  Automatic protection level regulation across a range from 4-12 with individual calibration option of ± 2
Power -  supplySolar cells, 2 lithium batteries (CR2032)
Sensors - Three Sensors
Sensitivity - Infinitely adjustable, now with "super high" sensitivity
Switching time - bright to dark: 0.100 ms at room temperature at 55°C, 0.070 ms at 55°C, dark to bright: 0.1 s to 2.0 s (with dimming function)
EN379 classification - Optical class: 1 / Scattered light: 1 / Homogeneity: 1 / Angular dependence: 2
Shape stability - Welding mask: up to 220 °C / 428 °F, Front cover lens: up to 137 °C / 279 °F
Eye protection Ultraviolet / Infrared Protection - maximum protection at any shade level
Operating temperature -10°C to + 70°C / 14°F to 158°F
Storage temperature -20°C to + 80°C / -4°F to 176°F
Weight - 460 g / 18,7 oz
Scope of delivery - Welding helmet, manual
Warranty - from date of purchase: 2 years for manufacturing and material defects, 6 months for battery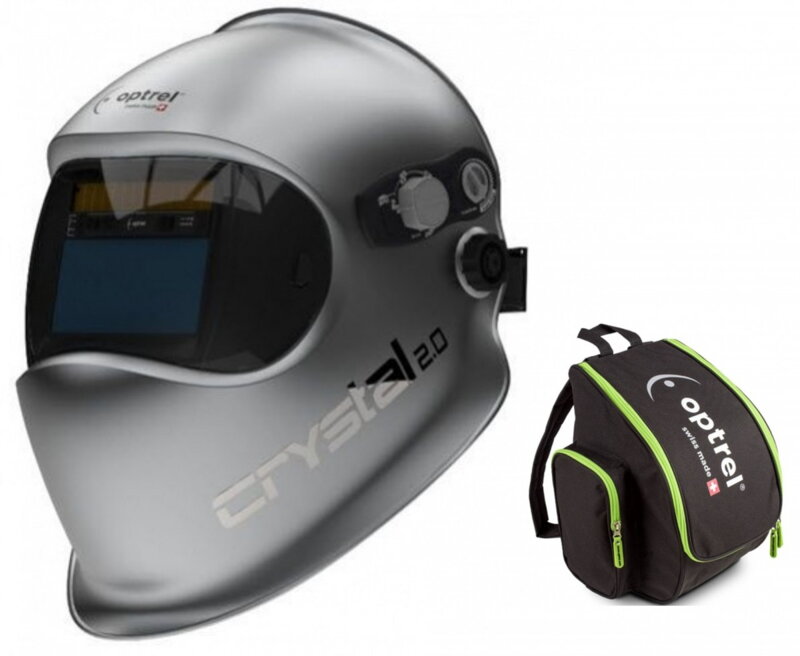 Optrel Crystal 2.0 + helmet backpack
We deliver worldwide.
All products will be delivered by a local courier or DHL Express by air.
Here are shipping fees and delivery times for particular regions:
| | |
| --- | --- |
| EUROPE - local courier | 21,00 Eur incl.VAT (3-10 days) |
| EUROPE - DHL EXPRESS | 36,00 Eur incl. VAT (2-4 days) |
| OTHER WORLD - DHL EXPRESS | 48,00 Eur incl.VAT (2-5 days) |