Technical description:
The revolutionary Optrel Swiss Air filter unit reliably filters out 99.8% of all harmful particles, aerosols, vapors, smoke and viruses
It completely covers the mouth and nose area and protects your airways at the highest TH3 level
Particle filter TH3 = filtration of 99.8% of pollutants
Continuously adjustable air flow 100 - 130 l / min
14-hour battery life
Automatic compensation of altitude and temperature
Breathing support
It meets the highest requirements for professional respiratory protection systems
The mask is made of POM (polyoxymethylene), ripstop textile (98% polyester and 2% polyurethane) and non-flammable polyurethane foam. The exhalation valve contains a silicone membrane
Breathing unit with automatic air flow calibration
Continuous air flow regulation for maximum work comfort 100 - 130 l / min. All levels have automatic air flow regulation
The levels are set directly on the blower and can be continuously adjusted using the front control panel (level 1: min. 100 l / min, level 2: min. 115 l / min, level 3: min. 130 l / min)
Fan - high quality motor with ball bearings
Electronic fuse
Material: PA66 GF30,
Alarm: visual and audible for low/very low battery, clogged filter, no filter and low air flow
Low battery: alarm frequency 3.0s (1.5s on, 1.5s off)
Filter: alarm frequency 0.5s (0.25s on, 0.25s off)
Control panel for setting all functions centrally from the front
Provides an overview of filter contamination and battery status
Continuous control of the air flow and the possibility of switching ON/OFF
Automatic compensation of altitude and temperature
Powerful TH3 filter unit with an innovative ultra-flat design
A ventilated half-mask made of fire-resistant material fully covers the mouth and nose area
Positive pressure supports breathing and reduces fatigue
Light and comfortable to carry, highly efficient in use
Ergonomic and narrow (48 mm) blower unit with automatic air flow calibration and 14h. high-performance battery for a continuous working day
Comfort when wearing Optrel Swiss Air filter ventilation
Shoulder strap for ergonomically perfect weight distribution of the super light filter system (only 550 g)
Continuously adjustable fastening for all sizes from XS to XL
Y-hose with adjustable neck strap and flexible hose elements directs air directly into the half mask
Areas of use:
Metal processing - grinding, welding, plasma cutting, preparatory work,
Working with wood,
Automobile industry,
Building industry,
Chemical industry,
Refrigeration industry,
Food industry,
Laboratories, pharmacy,
Healthcare
What standards does Optrel Swiss Air meet?
EN 12941
Europe: TH3
Australia: P3
AS/NZS 1716
EAC TP TC 019/2011
Notified body (exam): CE 1024
Technical parameters:
Weight: filter unit 550 g / Total system 1,200 g
Use: Professional
Protection: TH3 (EN 12941)
Flow: 100 - 130 l/min
Noise level: max. 70dbA
Unit dimensions: 250 x 170 x 50 mm
Battery life: 14 hours
Optrel SWISS AIR package contents:
Comfortable half mask
Blower unit with hose
Filter TH3P R SL
Head and neck strap
Shoulder harness
Control panel
Charger
Battery
Backpack Optrel
Charging cable
Manual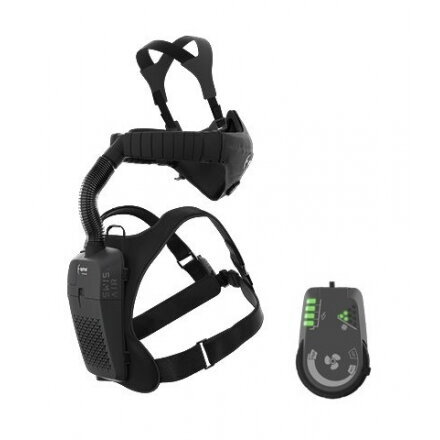 We deliver worldwide.
All products will be delivered by a local courier or DHL Express by air.
Here are shipping fees and delivery times for particular regions:
| | |
| --- | --- |
| EUROPE - local courier | 21,00 Eur incl.VAT (3-10 days) |
| EUROPE - DHL EXPRESS | 36,00 Eur incl. VAT (2-4 days) |
| OTHER WORLD - DHL EXPRESS | 48,00 Eur incl.VAT (2-5 days) |